Belen, a member of the Source Hacker System™ shared some of her wins with me.
She manifested 7 new clients
Wrote an essay about giving back to her parents (and is on her way to do so)
Drank more water than 

EVER

 before
Health, wealth, happiness, and giving back (You go Belen!).
Check it out: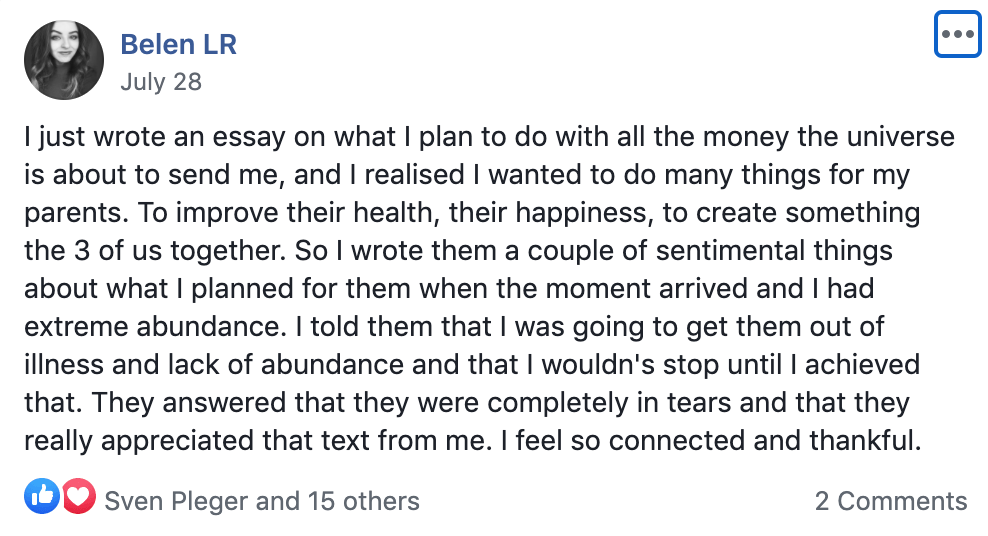 I love seeing my students improve their health, the quality of their life, their loved ones and see their goals being reached.
So help yourself, and be the next person to achieve all these things!

You ALREADY have the power to create, take control and manifest anything you want.
You are good enough, worthy, and deserving of living the life you really want to live.
There is nothing holding you back but fear.
You have to realize that this isn't about me, this is about you.
Do you want to keep doing the same things over and over again, expecting change, or are you ready to take things into your own hands and CREATE CHANGE.
Let's be real here, you have absolutely NOTHING to lose and EVERYTHING to gain.
I will protect your investment in your future by providing a full refund guarantee.
So that there is NO RISK involved.
None.
Put yourself first and start ASAP, as there is no person more important in your life than you.

So allow me and other members of the program to witness your journey to happiness.
Join and get your own personalized plan today.
See you on the inside.
-Peter